An Exciting Collaboration
CAI portfolio company, Javelin Technologies Inc. has partnered with Sunnybrook Research Institute to collaboratively develop, manufacture, and rapidly-deploy Personal Protective Equipment (PPE) during the COVID-19 Pandemic for front-line workers across Canada.
The project team has developed a modular face shield, based off an open source design, that has been iteratively modified and tested to ensure the device is compliant with regulatory requirements for working in a hospital setting.
Creating Sterilizable and Reusable PPE
In addition, Javelin have placed focus on ensuring the device is sterilizable and reusable to overcome the resource burden caused by single use devices, and ensure the design can be produced with both additive manufacturing and traditional mass-production methods whilst using commonplace materials that are easy to source.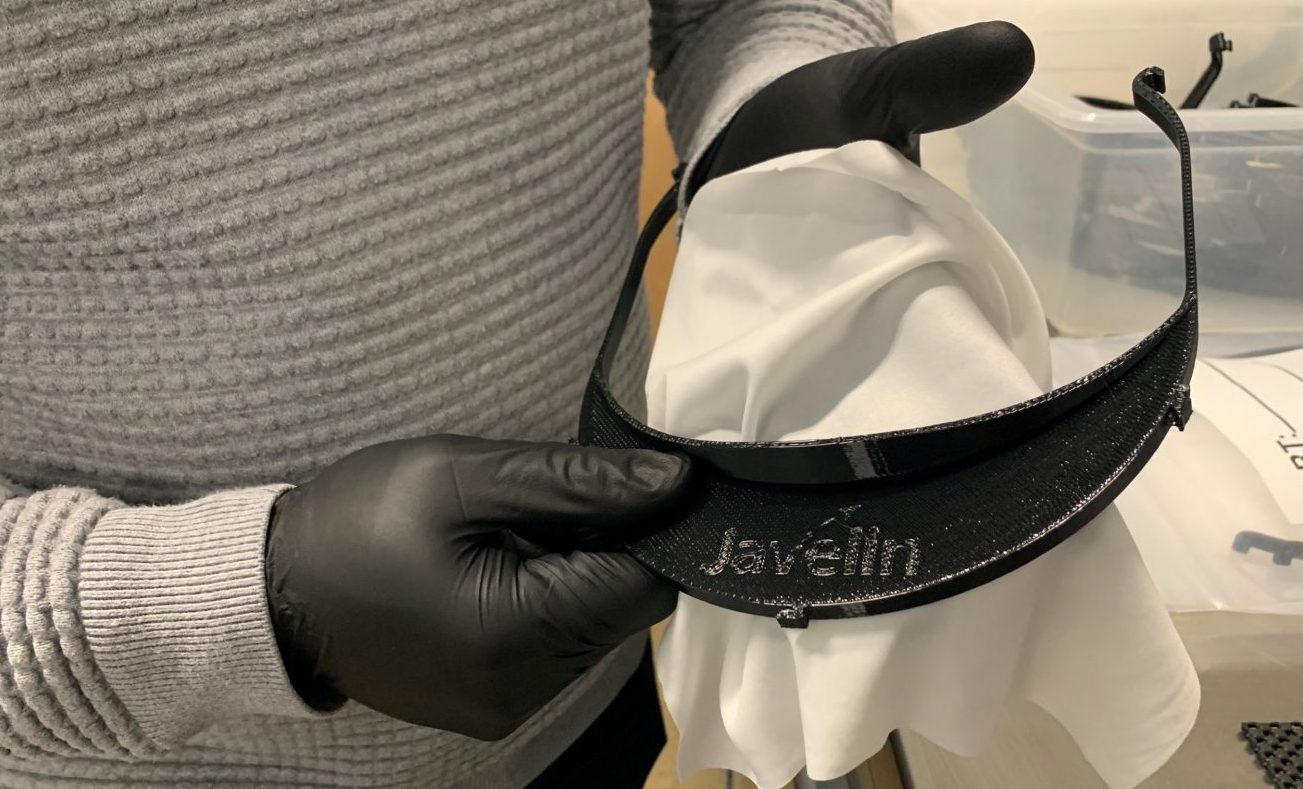 JAVELIN'S GOALS
Validate sterilizability of 3D printed components to empower a shift from disposable to reusable devices
Develop an open-source repository consisting of manufacturing and materials protocols, and sterilization methods and protocols for distribution amongst Canada's health and manufacturing verticals.
Pursue mass-production, with the aim of producing 12,500 shields/week by mid-late April; leverage Javelin's customer printer network, as well as in-house resources, bridge the gap to production and support injection molding production with additional units
Secure funding to manufacture devices at no cost to the healthcare system
Understanding the needs, challenges, and results of high-speed deployment of additive manufacturing technologies within the healthcare space; documenting these aspects to develop a set of "Best Practices"
Working with Clinical Feedback and Additional Development
Presently, Javelin has received feedback from the teams in the Occupational Health and Safety, and the Medical Devices Reprocessing Centre, and are continuing to iterate the design with feedback from Infection Prevention and Control. To date, they have: finalized the design for both device components, with clinical feedback from researchers as well as tested in the ER, and confirmed serializability of both components with readily available methodologies. Currently in progress is droplet simulation testing to compare efficacy of our device against other temporary solutions being used. Upon signoff, a final distribution package will be made available via open-source repository. Administratively, Javelin has started the process coordinating device distribution efforts within the GTA, have begun establishing partners in BC, and both project partners have applied for funding from numerous agencies.
Aiming for Mass Production
In addition, Javelin has secured intent to contribute from public and private donors and aim to set up contribution channels through the Sunnybrook Foundation and the Javelin web store. With regards to production, they have been mobilizing Javelin's customer base and in-house equipment to begin production; to date, $10,000+ in funding has been secured and 550 shields have been produced for distribution within Ontario. They have also sourced tooling for mass production of both device components, as well as confirmed per-part price, with the intent to kick off production upon final decision from funding agencies.
Contributing to the PPE Production Effort
If you would like to contribute to the cost of the 3D printing raw materials for the production of the face shields you can make a $20 contribution. Note that Javelin is not a registered charity and, as a result, we are not able to provide tax receipts for project contributions.
Javelin Technologies, a CAI portfolio company, are Canadian experts in 3D design and have enabled thousands of companies with solutions for 3D Mechanical and Electrical CAD software, Data Management and 3D Printing
www.javelin-tech.com
CAI contact:  Ashton Herriott
[email protected]